THE FASTCAMERA FC1700
The FastCamera FC1700 is a high-speed 17 megapixel digital camera system, using a CMOS imager with an electronic global shutter, or rolling shutter. This camera has a high-speed, scalable, integrated FPGA, image processor, and memory subsystem which enables stand-alone high speed in camera image processing and extended storage. Options include ruggedized, Expanded Camera Link output, Gigabit Ethernet output, and in camera recording. When integrated with a high powered frame grabber /coprocessor board, the resulting system capabilities can be expanded by adding processors and memory on the board according to the needs of the user.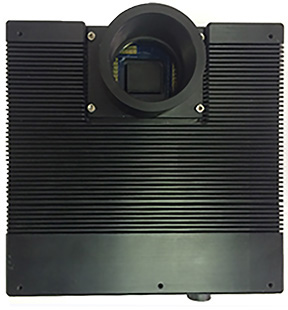 FastCamera FC1700 Key Features:
High Resolution
4812 × 3624 (17.4 MP) pixel array (including Black/Dummy)
5.0 um (H) × 5.0 um (V) pixel
4800 × 3600 / 4:3 aspect ratio; 4800 × 2700 / 16:9 aspect ratio
24.0mm (H) × 18.0mm (V) – 4800 × 3600 sensor active area
24.0mm (H) × 13.5mm (V) – 4800 × 2700 sensor active area
High Speed
Up to 90 fps at 4800 × 3600 (10-bit)
Up to 120 fps at 4800 × 2700 (10-bit)
6-port Dual Row Readout with high-speed LVDS outputs
High Sensitivity, Wide Dynamic Range and Ultra Low Noise
66 to 492 uV/e- selectable; 1.4 V full scale range
62 dB dynamic range; 8 e- rms noise
Excellent Image Quality
Patented Active Column Sensor (ACS®) technology
14-bit per Column Distributed A/D (D/ADTM)
Correlated Multi-Sampling (CMS™) to reduce noise or add gain
Multiple Operating Modes
Global Shutter or Rolling Shutter
6-port Dual Row Readout or 3-port Single Row Readout
Dual Data Rate (DDR) or Single Data Rate (SDR)
Additional Features
Programmable Analog Gain
Limited Region Of Interest (ROI)
Digital Binning within Columns
Asynchronous Exposure Control
Internal Memory
8 Gigabytes of internal memory
Capture to memory with slow readout.
Real time (full sensor speed) capture to memory
Inteface Options
GigE interface, for slow readout of captured images. 80 MBytes per second.
Extended Full Camera Link readout with four channel links, at up to 1 Gigabytes per second.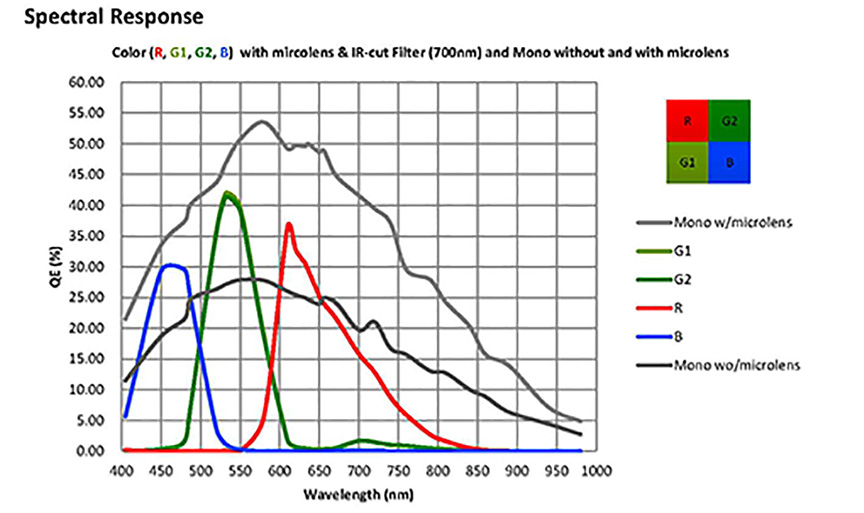 FastCamera 1700 Diagram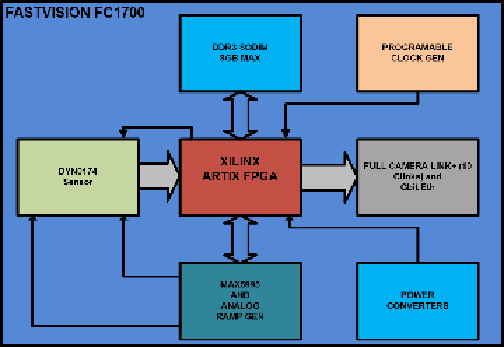 Click here to download a datasheet